Lunch & Learn -  October 24, 2017
Speakers
Roy Romero, Manager-Special Investigations Unit
LA County Metro Transit Authority
Richard Martin Del Campo, Claims Supervisor
LA County Metro Transit Authority
Topic
What Employers are doing to Mitigate their Claims
Learn from leading experts how you can reduce your workers' comp costs and exposures by means of identification, involvement, measurement of costs and allocation, defense and mitigation as a team.
Find out how to Combat Fraud and Reduce Claims at the same time!
Steven's Steak House
Tuesday, October 24, 2017
11:00 a.m.  – Registration, Networking
12:00 Noon – Lunch & Presentation
1:30 p.m. – Q&A/Discussion
2:00 p.m. – Adjourn
Please register using our  online process below. This allows you to use a credit card to pay your fee though PayPal. You do NOT need a PayPal account to complete this transaction. Alternatively, you may register online and print an invoice to pay by check. Or print the PDF registration form and mail a check.
SAVE on this, and all EFTF events by BECOMING A MEMBER Today!
Address:
Steven's Steak House
5332 Steven's Place
Commerce, CA
90040 Map and Directions
Available Spaces: Unlimited
Comp Laude Awards and Gala - San Diego -  October 30, 2017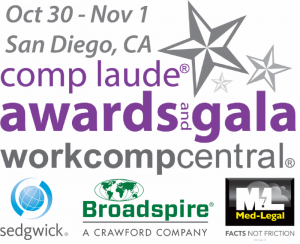 Learn, Connect, and Get Inspired! WorkCompCentral's Comp Laude® Awards & Gala elevates you and the world of workers compensation to a whole new level of understanding, recognition and inspiration! We look forward to seeing you at this year's Comp Laude® Awards & Gala!
Featured Content
A Fireside Chat with Dr. Robert Pearl, Author of Washington Post Bestseller Mistreated: Why We Think We're Getting Good Healthcare - and Why We're Usually Wrong
Continuing Education
Earn 14 Continuing Education Credits
Claims, MCLE and Legal Specialization up to three AMA PRA Category One Credit(s)™ in conjunction with CSIMS
Registration / Sign in is required to receive CE credits
Comp Laude® Awards & Gala
5:30p - 7:00p - 4th Floor Pool Deck
Our coveted awards are presented to the 2017 winners by Out Front Ideas team Kimberly George and Mark Walls. This is a not-to-be missed event as our awards ceremony takes place on the 4th floor pool deck, over looking San Diego Bay. A real Hollywood-style setting is in store, thanks to our awards ceremony sponsor Broadspire.
Kids' Chance of CA
All proceeds benefit Kids' Chance of CA, our official event charity. Bring your cash!
Parking
Parking is discounted to $35 per day for Comp Laude® attendees.
Please Join Us!
Address:
Manchester Grand Hyatt San Diego
1 Market Place
San Diego, CA
92101 Map and Directions