Famous Annual Holiday Event & Silent Auction
Description: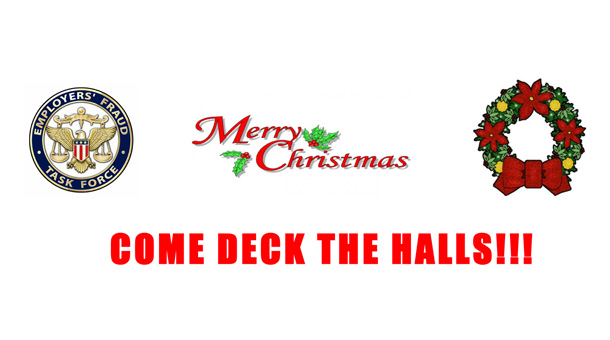 You are invited to attend our
Famous Annual Holiday Event & Silent Auction
to Benefit L.A. Pan Am Optimist
Join us for Outstanding Presentations on California's Fraud Fighting Efforts. Enjoy Great Silent Auction, Door Prizes, Steven's Famous Steak & Chocolate Cake, & Much, Much More…
Come; bring a Friend, Silent Auction Gift Item or Basket and your Appetite.
This is an outstanding Networking Opportunity! MEET AND GREET OUR LAW ENFORCEMENT OFFICIALS.
Topic:
"Celebrating our Law Enforcement Officials"
Hear from our Law Enforcement Heroes, and how they are Fighting Workers' Comp Fraud on the front lines. Hear their challenges and their successes and how you can be a part of the solution.
Speakers:

Tony Ferrentino, Orange County DA's Office
Michael Silverman, Riverside DA's Office
Michael Chiriatti, San Bernardino DA's Office
Dominic Dugo, San Diego DA's Office
Alonso Gutierrez, Tulare County DA's Office
Jennifer Snyder, Los Angeles DA's Office
Eric Charlick, California Department of Insurance
Steven's Steak House
Tuesday, December 19, 2017
11:00 a.m.  – Registration, Networking, Silent Auction
12:00 Noon – Lunch & Presentation
1:15 p.m. – Silent Auction Closes
2:00 p.m. – Adjourn
Please register using our  online process below. This allows you to use a credit card to pay your fee though PayPal. You do NOT need a PayPal account to complete this transaction. Alternatively, you may register online and print an invoice to pay by check. Or print the PDF registration form and mail a check.