Class Videos: Certified Professional in Fraud Identification (CPFI)
Educating employees on how to understand and spot fraud has now become an imperative that companies must proactively address in order to preserve revenue, and stay competitive.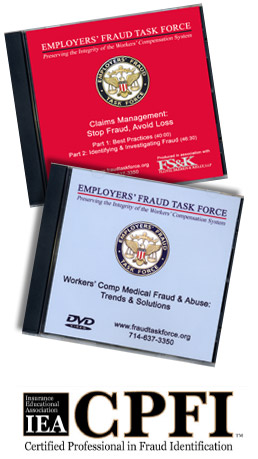 The Insurance Educational Association (IEA) has developed a fraud specific designation that offers an introduction to its ramifications for American businesses, as well as in-depth study of specific areas relevant to the insurance industry.
These Employers' Fraud Task Force videos are required materials for the course, and offered here at a significant discount to enrolled students only. Only $40 (plus S&H) for the set of 2 DVDs. Simply click the PayPal button below to purchase (you DO NOT need a PayPal account to complete purchase via credit card), and these two DVDs will be mailed to you.
Titles:
Disk One: Claims Management:
Stop Fraud, Avoid Loss
Part 1: Best Practices (40:00)
Part 2: Identifying and Investigating Fraud (46:30)
Disk Two: Medical Fraud and Abuse